After seeing the Wilder's grave in Mansfield, MO, we started our drive north to Minnesota to see the infamous town of Walnut Grove. It has come to my attention that many Laura fans have been mislead into believing that she spent most of her childhood in Walnut Grove, when in fact, the Ingalls family lived there only three years. It was an important stop on our trip, however, because Plum Creek is nearby. Plum Creek was where the dugout house was located, where the crab that threatened to nip aura and Mary's toes lived in the sandy creek, and where the girls walked to town to go to school. We were going to see the creek!



We saw the town of Walnut Grove, first. It was a very small town, its main attractions being the Wilder museum, a yearly Laura Ingalls-themed pageant, and a few minor Laura sites. The church bell that Pa Ingalls donated $26.15 to purchase (the equivilant of about $500 today; add $25 for you Aussies)
now hangs in the belfry at a neighborhood Lutheran church
. Laura fans will remember Pa went without a new pair of badly needed work boots that winter, after donating the money. The museum contained a redwork quilt made by Laura and her daughter Rose, and the Bible from the church the Ingalls attended.



But the real spirit of Laura lingered at the old dugout homestead at Plum Creek. The prairie grasses and wildflowers have been meticulously restored (they had been farmed over during the years, of course!). But the creek still runs just as described, and on such a hot day we could not resist taking off our shoes and dipping our feet into the cool, clear water.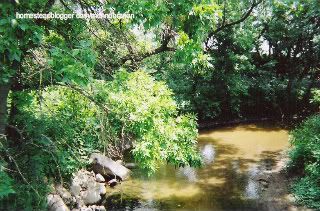 A small path takes you to the mound that once was the Ingall's dugout home, and the site of the massive grasshopper plague. Also, once you see for yourself the long distance that the girls had to walk to get to school in town, you wonder how it was they didn't perish from severe weather. In a day where school buses come directly to children's doors where today's kids wait supervised by concerned parents at the curb, I am telling you no one today would send their two little girls off to walk a few miles to school through dense prairie.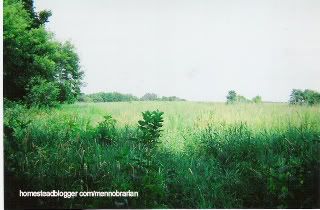 Walnut Grove was some hard living for the Ingalls. We followed Pa Ingalls' lead by heading west to our next destination.