In the summer of 2005, my friend Carole and I spent a week visiting homesteads from Laura Ingalls Wilder's life. My friend and I had planned and saved for our "Laura Ingalls trip" for about a year. She later confessed to me, in the rental car leaving the St. Louis airport, that she really spent the last year thinking that I was not serious and the trip would never happen. Guess I called her bluff! Anyway...

I love Missouri.

This is evidenced by the many times I start sentences when speaking to my husband with the phrase "When we retire to Missouri..."


Daviess County, St. Louis, Kansas City, Springfield, wherever, something about that place speaks to my heart. But no part of that state has impressed me as much as southern Missouri did, when my friend and I visited the Wilder's Missouri homestead, Rocky Ridge farm. Laura and Almanzo built and lived there for most of their lives.

The rolling hills and quiet country roads of southern Missouri, punctuated by woodlands and the abundant nature of Appalachia, felt so peaceful and remote. Imagine what it must have been like in 1894 when the Wilder's arrived!

The simple yet stately home built by husband Almanzo was deceptively small on the outside, as the main rooms inside were suitable for the large social gatherings Laura was known for hosting at Rocky Ridge. But there were some things that were small, like the kitchen. Laura was a tiny woman, not even five feet tall. Everything in the kitchen was small-scale, low cabinets and counters, small shelves. It had the feel of standing in a doll house! Several of us on the tour commented how enormous we felt standing in Laura's custom-built petite kitchen.

While inside, I could not resist looking out all of the windows, trying to imagine what Laura's view must have been like. From the back porch, did she see her little girl coming home from school up the winding road?

The museum next to the farm house had an impressive display of Laura's belongings, including Pa's fiddle, Laura's sewing machine, and a written list of Laura's favorite Bible verses. I actually pulled out a pad of paper to copy them down, only to find out later in the gift shop that there was a printed bookmark with the list of verses!


Rocky Ridge was where Laura wrote all of her books and articles. There was even fan mail from children still on the kitchen table, as the home and the placement of all of its contents have been carefully preserved since Laura's death in 1957.

After the visit to that house, Laura felt more "real" to me than ever before. She was no longer just the spirited pioneer girl in braids and calico from the books of my childhood, pictured vividly in my imagination. I had stood in her house, a guest.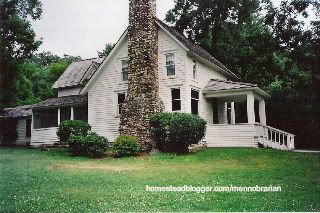 The Wilder's Rocky Ridge Farm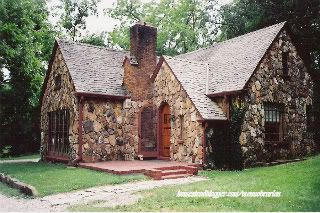 This stone house lies not far from Rocky Ridge, and Laura and Alamanzo lived in it for a while. It was a gift from their daughter, Rose Wilder Lane, after she became a successful writer. She ordered it from a catalog and had it built for her parents. Although it had more modern conveniences than their farm house, Laura and Almanzo never really felt at home here, and moved back to the farm .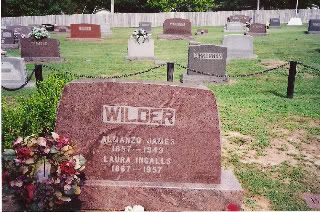 Finally, we went to visit the nearby cemetery where Almanzo, Laura, and their daughter Rose rest. Many visitors pay their respects and leave flowers.