A few posts back I mentioned that we are starting to harvest the fruits of the black walnut tree. We are only in the first phase of harvest, but things are going well.


Here is a perfect black walnut, fallen from the tree, wrapped in its thick green husk.

You need to get the husk off
,
and the fastest and easiest way to do that is to run over them with your car. I know that sounds funny, but it seems to be the universally accepted way to do this. It helps if you have a gravel driveway, like we do, or else the walnuts can shoot out from under your tires and take out a window or an onlooker's eye or something.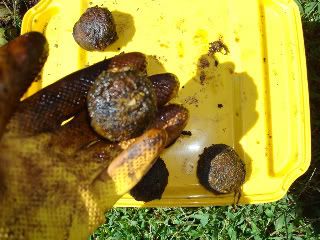 Next, put on the gloves and peel off that husk. There is a juicy brown liquid inside of the husk which will stain your hands and clothing, so you have to wear something you absolutely don't care about. Then you discard the husks in the trash as they can't be composted.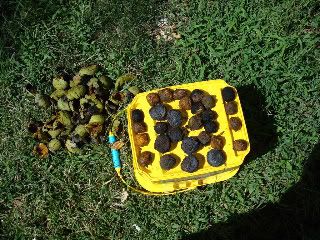 Then, you set them in the sun to dry. This is a very important step, as failure to dry the nuts will result in a moldy mess.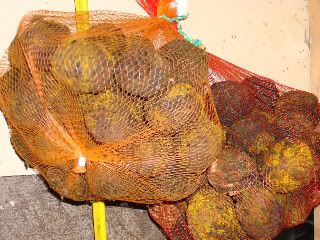 When they're dry, you can bring them inside, place them in a net, and let them cure for a few weeks in a cool, dark place. Once the nuts are cured, you can crack them and extract the meat. If you sell the meat directly, like at a farmer's market, you can make a nice profit on the side. But our black walnut meat is just for our baking pleasure.