So after a last minute brake job on our truck, we were able to get out to Ohio and back in two days to pick up our wood stove, a few items for the house, and make plans to definitely go back to the Tuscarawas Valley when we have more time to visit. We were really blessed by outstanding weather. While it was rainy and cold back home, we enjoyed sun and seventy degree days while we were there. All told, the ride took about seven hours. After checking into our modest hotel room, we perused some options for supper and I was delighted to see that we were just a few miles from the Amish Door restaurant. I think the last time I was there it was about fifteen years ago, and it was a restaurant, bakery, and maybe a gift shop, so I was surprised to see how vast their empire had grown. It now had all those things, plus a bulk food store, hotel, banquet hall, dinner theatre, bed & breakfast, airport, and screen door factory. Okay, I'm exaggerating about the last two things, but the rest are all true-- it's a huge commercial complex. But the food was still good enough to be drawing in plenty of Anabaptist customers, although as my husband and I discussed later, it wasn't quite as good as our favorite Lancaster eateries.

Anyway, after a fitful night's sleep on the hardest mattress mankind ever created, we drove west to Wayne Co. past the wood furniture stores and cheese shops. My husband dropped me off here to have a look around while he drove elsewhere to pick up the
stove: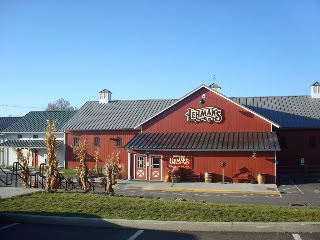 Now, I've seen their catalog of course, but nothing could have prepared me for the sheer vastness of the actual Lehman's hardware store. It was an endless maze of of anything you could possibly imagine, and some things I would have never imagined such as a corner filled with Swiss cow bells, an enormous wall filled with every imaginable shape of cookie cutters, and a room filled with every type of laundry equipment imaginable. By the time my husband came back to Lehman's and found me, I was hauling a cart filled with kitchen items, books, and a pressure canner that was on sale. Their book selection was phenomenal- I really had to exercise some restraint there.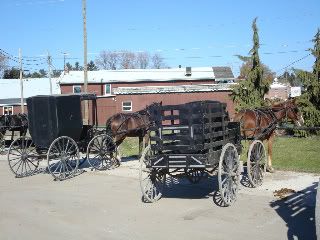 There were many items that I would not have bought there only because I have seen them for far cheaper at Target and other places, but there were also a few items that I thought were very good deals.

We had to leave by noon in order to get on the road, but we took a quick peak across the road at the Kidron auction/flea market before leaving.


Even though I knew this would be a quick trip, I was still a bit melancholy that we couldn't stay longer and visit some more places, make some acquaintances, and attend church, but perhaps next time.