It's true, I haven't been posting as much as I like, but have mercy as I try to accomplish all of my winter sewing in a few days time. Even though my schedule says "vacation" my to-do list often feels like more work than a day at the library. And of course, life still goes on, the laundry never ceases, meals need to be made, etc. Today I spent an unreasonable amount of time trying to insert an "invisible zipper" which was highly visible by the time I was done with it. It was likely such a disaster as I have no practice in sewing zippers, and always omit them from patterns that call for them. It goes back to my childhood and how much I detested that feeling of a zipper going up the back of my dress- so confining! It gives me the shivers to just recall it. Zippers are good for some things, but they're not good for me.

On my first full day home I tore out our spent tomato vines and long dead sunflowers. So many flowers are still thriving in the garden, although we've long stopped watering. The temperature has been growing colder with each day, and I've thoroughly enjoyed the evenings under a warm blanket with a good book.

As a treat to celebrate my time off, I tried something new and made Lemon Curd. Spreadable, sweet, and so delicious, it can be used for so much more than just cake filling. Here's how it went:



Lemon Curd


3 eggs
1/3 cup fresh lemon juice (from 2-3 lemons)

do not use bottled lemon juice


1 T finely shredded lemon zest
3/4 cup sugar
4 T unsalted butter (room temperature and cut into small pieces)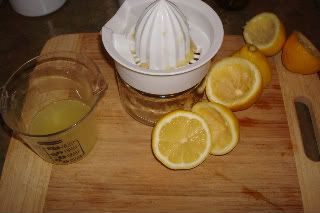 First I made my lemon juice. Room temperature lemons offer more juice. Next, I grated my lemon zest.



In a double boiler (or a stainless steel bowl placed over a saucepan of simmering water) whisk together the eggs, sugar, and lemon juice. Cook, and stir until thickened.

Immediately remove from heat and put through a strainer to remove lumps. I placed the strainer over another small pot, and pushed the curd through the strainer with a spatula. Next, whisk the small pieces of butter into the mixture until they have melted. Finally, add the lemon zest and let cool. Makes 1 and 1/2 cups.



It's best to put it in containers right away and place in the fridge. It can also be frozen.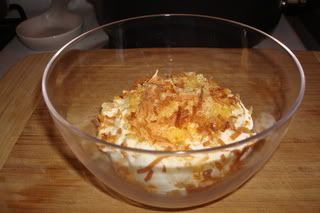 It's best to eat it, too. How about on top of vanilla yogurt and top with toasted coconut? Works for me.

Do you all ever get tired of seeing my kitchen counter? Just wondering. I do!